Eastside Music Studios
CAPTURE YOUR SOUND
In a Boutique Recording Studio in the Heart of Austin, Texas
Get in touch
A ONE-STOP SHOP TO FIND THE SOUND YOU NEED
WHAT WE DO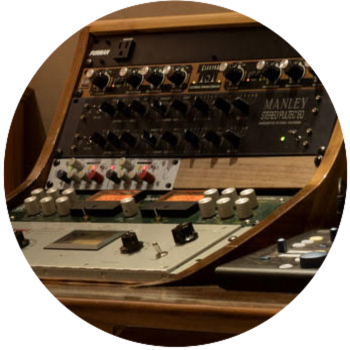 studio For Hire
Our Bread and Butter. From hourly rates up through entire project quotes, our engineers will focus on helping you get the sound you're after.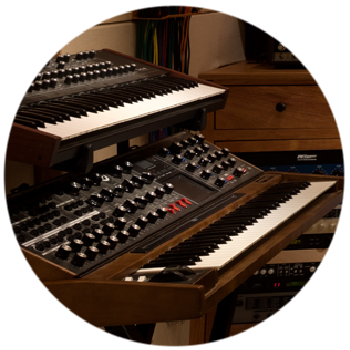 Custom Music
Electro-pop banger?  Lush orchestral arrangement?, No problem. We have a versatile team of staff composers ready to get to work.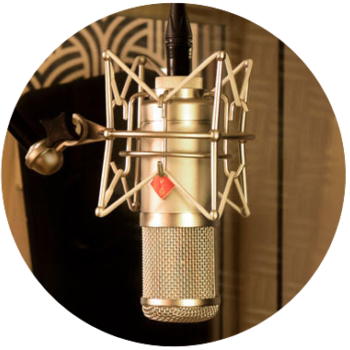 Voice Over / ADR
Our studio was built for voice over work.  Our engineer, top quality gear and acoustically designed vocal booth ensure a smooth session every time.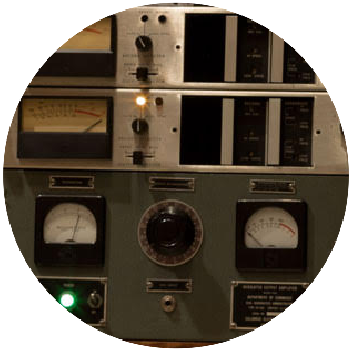 Sound Design
Need sound effects or foley for your next film? Let us dial in the perfect sonic bed to compliment your footage.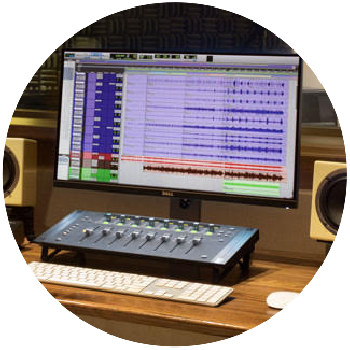 Podcasts
Record your next Podcast in an inspiring, acoustically tuned studio. Elevate your Podcast by recording in our professional studio..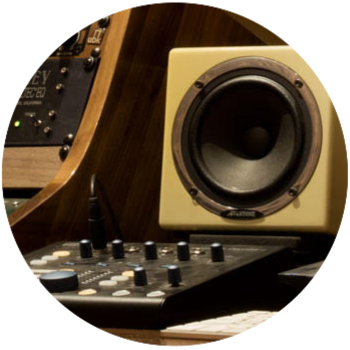 5.1 Mix
From quick stereo mixes up through involved 5.1 Mixing, our speakers and space will ensure your audience hears exactly what you want.
Our Music Magicians
Meet the team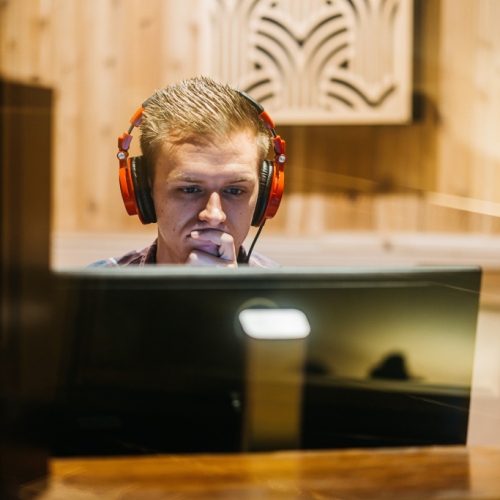 Austin Sisler
Chief Engineer | Producer | Guitarist | Lover of iced coffee & tubes.<br />
 "Growing up on cassette tapes and CDs of Def Leppard and Boston, I found a love for music through my father's eclectic 70s and 80s rock collection. I chased music early, learning guitar and piano at the age of 12 and playing with several bands in high school. But once I set foot in a recording studio, I knew what I wanted to do for the rest of my life! After graduating from the Sound Recording Program at Texas State University, I teamed up with Alex Ballentine in Austin, TX to rebrand and reopen Eastside Music Studios. At EMS, I love to take sounds and push them to their sonic limit. Whether it's re-amping drums through guitar pedals or just throwing a vocal through an Altoids mini-guitar amp (yes, like the breath mints), I want to explore new and unique sounds with passionate and creatives alike."
Alex Ballentine
STUDIO MUSICIANS
Our studio musicians are available to help you build your sound between the sweetest beats, killer guitar solos, and memorable melodies – we've got you covered!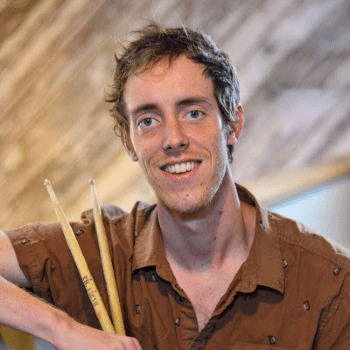 The perfect tools to build your sound…
Gear List
Princeton Reverb '68 reissue
Savage Audio "Macht 12"
Vox AC15
Fender Blues jr
Fender Hot Rod Deville
UA LA-2A
UA 1176LN
Daking Stereo FET III Compressor/Limiter
Rupert Neve Designs 5043 Portico Dual Compressor
Stam SA4000 Buss Compressor
Vintage 61' ROA Compressor (Dept of Commerce)
(2) Distressor EL8X-S
Warm Audio WA-76
FMR RNC 1773
Tube-Tech PE-1C
Kush Audio Electra ETE
Manley Stereo "Pultec" EQ
dbx 520 De-Esser
Standard Audio Level-or
(2) API 550b EQs
Gibson 335
Gibson Melody Maker
Fender American Std Stratocaster
Martin D-28
Taylor Custom Guitars
Waterloo Jumbo King
Vintage Fender Rhoads MK 1
Dave Smith Prophet '08
Moog Minimoog Voyager XL
Moog Sub Phatty
Roland Vocoder VP-03
Korg MS-20 Mini
(2) Coles 4038 Stereo Matched Ribbons
SM7b
AEA KU5A Ribbon
Vanguard V13 Tube
AKG 214 Stereo Matched Set
Peluso CEMC-6 Stereo Matched Set
Telefunken M81 Dynamic
(3) Sm57
Sm58
Sennheiser 421
Sennheiser e902
AKG D112
AKG D12E
Rhode NT5 Stereo Matched Set
Rhode NTK Tube
(2) Audio Technica AT4050
Focal Shape Twins
Yamaha NS-10M
-Powered by Bryston 4B SST Power Amp
Avatone Mixcubes
(2) Rupert Neve Designs 511 pre
(2) BAE 1073MP
(4) API 312
(2) SSL XR621
(2) FMR RNP
(2) Vintage Ampex Tape Pres
(2) Vintage SA-134 Gates Pres
Warm Audio WA12
Roland Space Echo RE-201
Lexicon PCM92
Roland SRV-330 Dimensional Space Reverb
Yamaha SPX-90
Sony DPS-V55
Demeter Spring "Real Reverb"
Pro Tools HD 2019
Logic Pro X
Lynx Aurora (n) 16 AD/DA
Apple Mac Pro 2.4 Ghz Quad Core
64 gigs RAM, High Sierra Operating
REVOX A77 mkIII Stereo Tape Machine
…And The perfect Space to Do it
The Studio
Situated in a wood adorned historic building in Downtown Austin, Eastside Music Studios was meticulously crafted for the Recording Artist seeking to elevate their sound.  Our acoustically designed rooms, professional sound engineers, vintage analog gear and modern digital processing  ensure a premium experience for our clientele. 
We have 3 dedicated tracking rooms plus a lounge. Studio A is our flagship room, large enough for drum tracking or to accommodate a live band. Studio B is our iso-booth, perfectly tailored for high quality vocal work, and our "Gershwin Room" is home to our Steinway baby grand piano.   
Located just east of downtown, you'll find plenty of dining options for those all day studio sessions.
Who we're working with
FEATURED ARTISTS
WHAT WE'VE BEEN UP TO
FEATURED SERVICES
PODCAST SERVICE
Creating a Professional Podcast doesn't need to be hard. Whether you need a little editing and "audio sweetening", or you're looking for a professional facility to record and produce your content, Eastside Music will partner with you to create your stunning Podcast. We can even help get your material hosted and submitted to all major platforms including Spotify and iTunes.
To demonstrate our capabilities, we created our very own Eastside Podcast, Hosted by Studio owners Alex Ballentine and Austin Sisler and featuring interviews with up and coming artists about the creative process and the state of the industry for musicians today. Give us a listen! 
CUSTOM MUSIC
Looking for Custom Music for your next film or television project? We've got you covered. Our dedicated team of composers and music producers will work with you to create the perfect "music bed" to help tell your story. 
Need a quick turnaround or working with a limited budget? No problem. We have a library of  pre-recorded tracks available for royalty-free licensing. View our work below and contact us to discuss your needs.
Ready to Get to Work?
We're excited to work with focused musicians, filmmakers, podcasters, and ad agencies who want to do good work. If this sounds like you, contact us to discuss your next project.
Visit Us
501 N IH-15 STE#107
AUSTIN, TX 78702
PARKING GARAGE
505 SAN MARCOS ST.
AUSTIN, TX 78702