Great For students of all levels
Social Guitar Class
Learn to play and sing your favorite songs in fun and supportive group setting. Next Class starts 10/14
Enroll in Social Guitar
Contact Us
Learn Guitar. Make Friends. Have fun!
Welcome to Social Guitar! This group class is open to anyone who'd like to learn to play guitar and sing your favorite songs in a fun and supportive group environment. Each week, your instructor will introduce easy to play acoustic songs from a variety of genres.
Did you know people learn an instrument 3-times faster in a group setting with a teacher than by teaching themselves? Not only is it faster, but you also get structure and the real world experience that only a teacher can provide. And that leads to more fun!
Not sure if you're ready? Contact us for a free consultation.
Social Guitar
Sundays @ 12pm (90 minutes)
6 weeks 10/14 – 11/19 
$250
*Students must enroll in entire series. Class meets weekly on Sundays at noon for 6 weeks. No credits or refunds will be given for missed classes.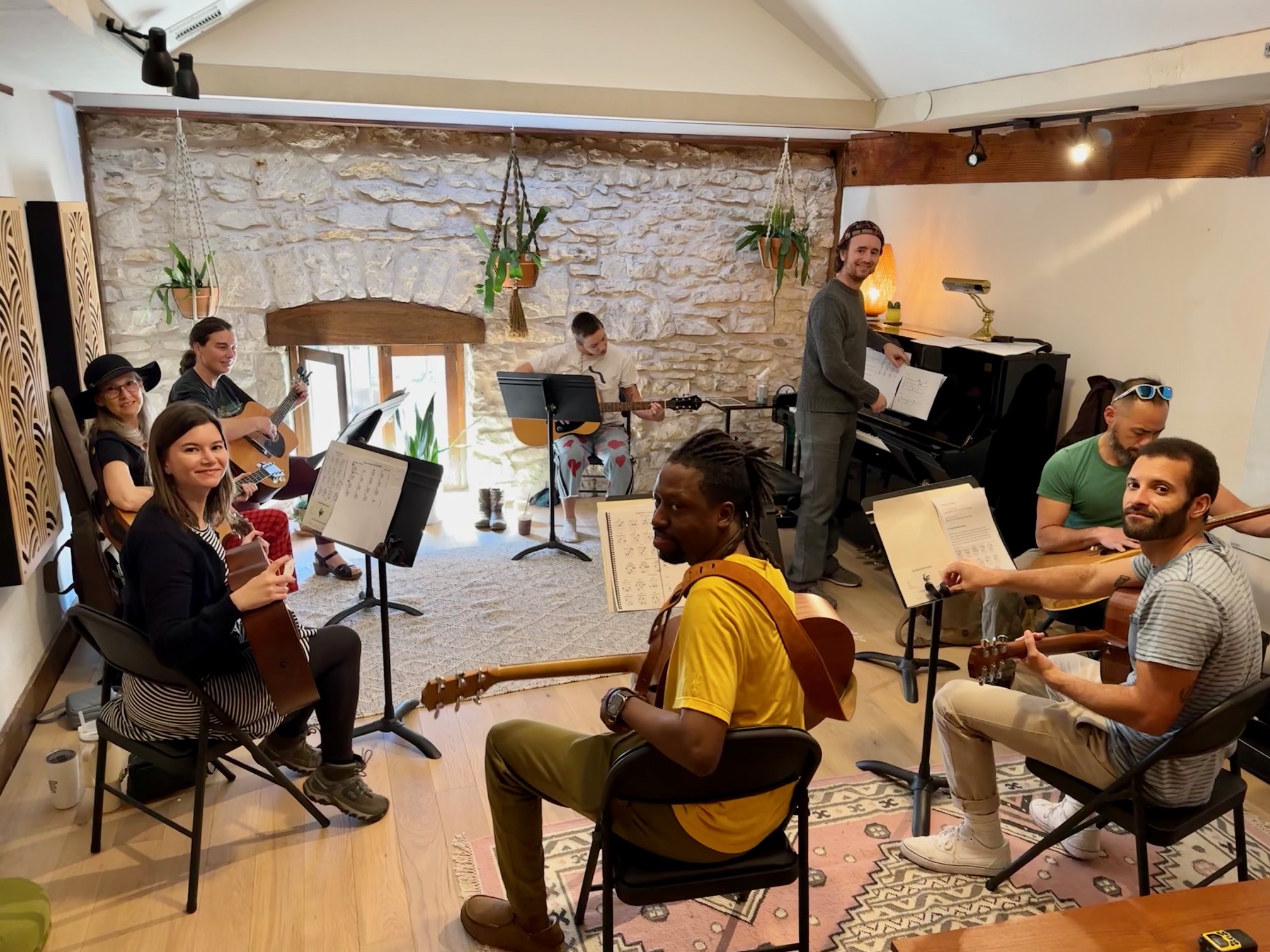 "To me, being a musician means constantly honing and evolving your craft. There is no finish line in music and therefore always something new to learn every time you pick up your instrument. With teaching, I try to meet the student at their level, assess their goals, and help put them on a path towards achieving those goals. I hope that my students leave lessons feeling inspired to play, practice, and keep expanding their knowledge. When it comes to the guitar I try to stress the importance of understanding the fundamentals that go beyond the instrument so that when they go to apply a musical technique they don't get stuck in muscle memory.
I studied music at Blackhawk college, jazz studies at the University of Iowa, and attended several music-education events around the country such as: guitar sessions at Berklee College of Music and Django in June in Northampton MA. As a jazz guitarist, I've been invited to perform all over the country at festivals such as Redwood Coast in Eureka CA, Denver Vintage Jazz Festival, Bix Beiderbecke memorial jazz festival in Davenport IA, and the Detroit Jazz Festival among several others.
From Davenport Iowa, I'm inspired by all sorts of things from comedy, film, basketball, and of course the music of all genres. I love when the unexpected happens in the creative process and something becomes much more than you anticipated!"